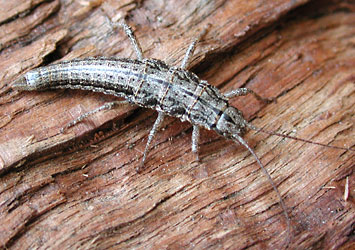 WHAT MAKES TIMEMAS INTERESTING?
Now we get to a more complicated question, and the short answer is that there are many unusual things about timemas, and these unusual features make timemas an excellent choice of "study organism" that can be used to address some of the most important questions in biology. We list here several significant features that are considered to be topics well-suited for research, and there are many publications on these topics by the collaborating scientists in the Timema Discovery Project:
(1) SOME SPECIES ARE PARTHENOGENETIC
Some species of Timema are among the only multicellular animals to reproduce by a mechanism known as parthenogenesis, a type of asexual reproduction where females give birth to only female offspring, and no males are ever produced. What makes this rare phenomenon (which is already interesting enough!) especially interesting in the case of timemas is that (a) a few of the parthenogenetic species do ‐very rarely‐ produce males, and we don't know exactly how or why this happens (b) each of the parthenogenetic species is closely related to a species that is NOT parthenogenetic (so asexual reproduction has arisen independently multiple times in this group of insects), and (c) some of these species have been reproducing asexually for over a million years, which is among the longest history of asexuality known for any insects in the world. Knowing how and why some species of animals can survive and succeed without sexual reproduction is one of the most intriguing questions in biology.
(2) SOME SPECIES APPEAR TO BE IN THE PROCESS OF SPECIATION
Within at least one species (Timema cristinae), the members within a single population can be found to have two different "forms" associated with two different host plants; the forms prefer to eat different hosts, prefer to mate with similar forms if given the choice, and they have different color patterns and slightly different body shape. However, they can still interbreed and produce offspring in the laboratory, so they are still one species, but over time they may separate into two species, one on each host plant. Speciation is an extremely rare phenomenon to observe while it is happening, where we can gather data allowing us to see how the mechanism works, as opposed to just theorizing about it. How speciation and evolution occur is one the most crucial and fundamental questions in biology, and one of the most intensively studied.
(3) THERE MAY BE "CRYPTIC" SPECIES
Related to the preceding data on speciation, analyses show patterns of genetic variation across geographic areas that suggest that some species might not simply be on the verge of splitting, but may in fact have already "split" into more than one species, though without any visible external changes associated with this transition. Documenting this sort of phenomenon is also very difficult, and learning more about it would offer insights into how such a process can take place.
(4) THEIR BIOGEOGRAPHIC HISTORY IS UNUSUAL
There are only a small number of species-rich lineages of plants and animals that occur nowhere else in the world besides the West Coast (categorized as "endemics" to this region), and only a small number of those are known to be very ancient lineages with no close modern relatives (a so-called "relictual lineage", e.g., the "rain beetles" of the genus Pleocoma, the only genus in the family Pleocomidae). Timemas are one such lineage, so understanding their history may shed light on poorly-studied aspects of the geological and ecological history of North America.
(5) THEY AFFECT OTHER SPECIES IN THE COMMUNITY, AND PERHAPS THE ECOSYSTEM
In some parts of California, timemas are very abundant and form an important food item for birds. In these areas, birds prefer to preferentially hunt for timemas on bushes where they have not evolved perfect camouflage. However, while hunting on these bushes the birds not only eat the timemas, they eat or scare away other members of the insect community, such as caterpillars, beetles, etc. In turn, this affects the degree to which the bushes are grazed by insects. Thus, adaptation and evolution in Timema can have far-reaching ecological consequences for the species they co-exist with, and knowing more about these processes might help us understand community and ecosystem functioning.