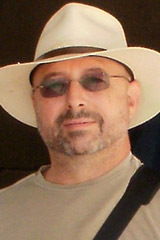 Robin Uriel Russin is a screenwriter, playwright and director. He was educated at Harvard, Oxford (which he attended on a Rhodes Scholarship), the Rhode Island School of Design, and UCLA, where he received his MFA in screenwriting. Robin taught screenwriting at UCLA for six years in their undergraduate and graduate film departments, as well as their Professional Program. He is currently Full Professor of Screenwriting at UC Riverside, where he has been Acting Department Chair, Graduate Advisor, and Director of the MFA in Creative Writing and Writing for the Performing Arts.
Robin's work for film and television includes the hit box office eco-thriller On Deadly Ground, starring Steven Seagal and Michael Caine, and his original one-hour pilot about King David sold to ABC TV, where it was re-developed and produced as the primetime series Of Kings and Prophets. Many of his other feature spec scripts have been either bought or put under option by both studio and independent producers, including the action adventures Reapers and Code 99; Colter's Hell, an epic about the first mountain man; and The Secret of the Smile, a murder mystery involving Leonardo da Vinci. He has also written feature screenplays for hire, including In The Name of Love, about the war in Bosnia, and the drama 2 Hearts (currently streaming on Netflix and other services), and The Luneburg Variation, based on the award-winning post-Holocaust novel by Paolo Maurensig. Robin also works as an expert story consultant for American and international producers, including filmmakers in Hong Kong, Japan, India, Italy, and Germany. In television, Robin was Senior Producer of the hour-long ABC primetime series, Vital Signs, a field producer for The Prosecutors, and has written, produced and directed numerous segments and specials for America's Most Wanted. Among his awards was first place in the 2014 TV Writer People's Pilot competition for his one-hour pilot, The New West, about the legendary Texas Ranger Frank Hamer (co-written with Greg Klein). His half-hour pilot, Life On My Knees (co-written with fellow Wyomingite William Missouri Downs) has won or placed in multiple competitions, and is currently being packaged by Meryl Poster. Robin also directed the multi-award-winning independent feature film, When I Sing, currently on Amazon Prime, and the multi-award-winning independent feature film, The Anxiety of Laughing, currently on DIME network.
Robin's work in theatre includes his stage play, The Face in the Reeds, which had an sold-out, extended run in Santa Monica, CA, and was reviewed by Life in LA as "a must-see dramedy" and by The San Diego Jewish World as "most stimulating and enjoyable play." His play, Painted Eggs, was reviewed by The Los Angeles Times as "ambitious, heart-felt and hypnotic," and by Drama-Logue as "a glorious treat and a wonderful lesson in love." Among the work he has directed are Kevin Cramer's Bacciarelli for The Ruskin Group Theatre in Santa Monica, Shakespeare's The Merchant of Venice and Charles Evered's Class in conjunction with The Culver Center for the Arts and the Riverside Arts Council, for which he won an Inland Theatre League Award for Best Director; Henry V for UCR, and Stu Krieger's Chasing Smoke at the Falcon Theatre in North Hollywood. He regularly conducts playwriting workshops in the Los Angeles area, and writes for the Valley Beth Shalom playwriting festival, the Ruskin Group Theatre's Cafeplays series, and the Jewish Women's Theatre salon series, where he is an artist-in-residence. He was awarded Best Director in Service of a New Play at the 2011 Kennedy Center American College Theatre Festival Regional Finals, and 2015 received their Excellence in Education award. Robin is currently Chair Emeritus of the KCACTF Region 8 National Playwriting Program.
Robin co-authored the widely used Naked Playwriting and Screenplay: Writing the Picture, both now in their 2nd Editions, and both published by Silman-James Press. Screenplay: Writing the Picture was reviewed by Lew Hunter, co-chair of UCLA's screenwriting department, as the "best book about screenwriting and being a screenwriter ever written." Arlene Hutton (Playwright - Last Train To Nitroc) wrote of Naked Playwriting, "Not only is this one of the best books for playwrights that I've ever read, it's also a brilliant guidebook to theatrical story-telling and will be useful for directors, actors, designers and dramaturgs. The clear prose takes the reader on a journey of discovery aided by examples and quotes. This book refuses to stay on the shelf; somehow it always ends up next to my computer as I refer to it again and again. Whether I'm beginning a play or on my fortieth revision, I can always find help and inspiration in Naked Playwriting. Every time I re-read a chapter I find something new to highlight; soon I will have highlighted the entire book. It's that good!"  Robin also has written extensively for various publications. Among his future projects are a play about Shylock in the context of the community of the Venetian Ghetto, a novel about Herakles, and a new television pilot set in the California Gold Rush.
Robin was born and grew up in Wyoming, where his family maintains a home in Centennial, at the foot of the Medicine Bow mountain range.