We welcome science enthusiaists of all levels; our book selections are accessible to a general audience, including high school students and anyone with curiosity about nature. We look forward to you joining our discussion about each book!
About This Month's Book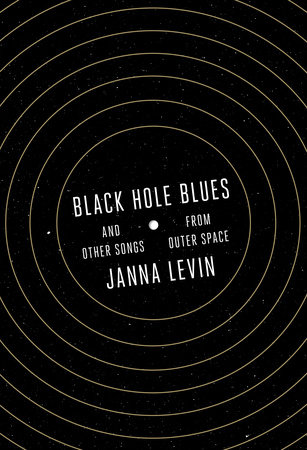 Janna Levin is the Tow Professor of Physics and Astronomy at Barnard College of Columbia University. Her research focuses on cosmology and general relativity, where she has worked on black holes, extra dimensions, and gravitational waves. She is also the award-winning author of How the Universe Got Its Spots.
In Black Hole Blues and Other Songs from Outer Space, Levin tells the story of the experimental search for gravitational waves from black hole collisions. These ephemeral gravitational waves were finally discovered in 2015 by the LIGO collaboration and are a heavy favorite to win the 2017 Nobel Prize in Physics.
Related articles:
TL;DR ("too long; didn't read"): For those with limited time, we still invite you to join our discussion. In a pinch, you can view Janna Levin's Black Hole Blues and Other Songs from Outer Space"talk at Google last year.
Join us on Wednesday, April 26 at 6:00pm in Cellar Doors Bookstore to discuss the book. Bring your thoughts, questions, and excitement for science!
Possible Future Books
See also the list of 2016 physics books by Symmetry Magazine.
About The Moderator
Flip Tanedo is an assistant professor of theoretical physics at the University of California, Riverside. He specializes in the puzzle of dark matter and how it fits into a fundamental theory of particle physics. He fell in love with science after reading The Physics of Star Trek in eighth grade.
About The Cellar Door Bookstore
Cellar Door Bookstore is locally owned bookstore for all ages now open in the Canyon Crest Town Center in Riverside, California. It is conveniently located right across from Jammin' Bread Cafe. You will find storytimes, book clubs, puppet shows, writing groups, many, many authors and a welcoming staff that really knows books. Finally, a place you can share your love of reading with your fellow Riversiders.